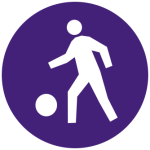 The PE Department in OLM seek to encourage, promote and motivate students to participate in physical education and extra curriculum activities. The department strives to present students with a well balanced programme where students are given the opportunity to experience success in physical activity regardless of age, ability or gender. The PE department aim to promote confidence, skill, enjoyment and challenge within each activity.
Active Flag
The school enjoyed a visit from Des Rogers this week. Des meet the Principal, the PE Department and the Sports Council. He also took a look at the facilities and talked to the PE Department about the PE curriculum, extra curricular and active week. OLM sports council are now a step closer to gaining the Active Flag for 2016.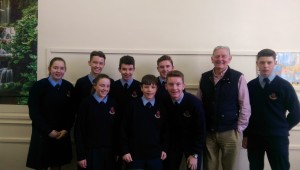 Sports Council Ice Skating Trip
On the last Monday of the Autumn Term OLM enjoyed its first R 'n' R  afternoon. Most students enjoyed a reward afternoon, including our Sports Council who enjoyed a much deserved reward of Ice Skating in Dundrum On Ice. It was bitter sweet though as it meant it was our last outing with the current 6th years as they relinquish their duties of sports council after Christmas of 6th Year in order to concentrate on their studies.
The current 6th year students will be well missed as they were part of the application for Active Flag from the begining. We wish them all the luck in the world and we cant wait to have them back for the ceremony when we fly the Active Flag over OLM.
Transition Year Gold Boxing Programme
A huge congratulations to all the students who fought in the National Stadium as part of the boxing programme, ran through the Transition Year PE programme.
All the TY students took part in the bronze and silver programme. A number of students were then selected to go forward to the Gold Programme and represent OLM in the National Stadium today, Thursday 3rd December.
The students put on some phenomenal performances….check out for yourselves in the video below!!!
https://animoto.com/play/NcZsREGBVEAJSkbZ0eu78A
Sports Science Workshop
Our TY Sports Science class visited Ballymun Comprehensive School on Wednesday 23rd September. The students took part in a workshop lead by Paddy O'Reilly and the Ballymun Comp PE Department. The workshop was about GCSE PE, which is a PE qualification that is recognised in countries around the world including the UK, Australia, New Zealand, Canada, Ireland and many more.
It is our hope that all the OLM students studying the Sports Science programme will receive this PE qualification by the end of their TY year.Currently there are only 6 schools in the country, now including OLM, who offer this.
The students will sit a written exam in May which will account for 40% of their final grade. They will also be assessed on practical elements of the course such as sport specific performance, coaching, sports analysis and the development and execution of a personal exercise programme. This will account for 60% of the final grade.
We believe that we have many talented sports men and women in OLM and believe that they should gain recognition for their talents. This PE qualification will stand to all our students especially if they intend on seeking a career in sport.
Sports Day 2015
Sports Day was held at our local GAA club, Good Counsel, this year. We all enjoyed a jam packed morning of activities. Events ranged from the tradition events of the 3 legged race and the sack race to the more competition events, such as the high jump, tug of war and class relays. We also enjoyed some super competitive 6th year V staff events…..unfortunately for the 6th years the staff proved too talented on the day……:)
A big thanks to Good Counsel for giving us the use of their facilities for the morning, to our DJ Calum Keech who supplied us with tunes to dance to all day, to the parents who came down to support their children, to all the staff who made the day happen and to all of the students who got involved and had great fun for the day.
The PE department would like to wish the 6th years all the best in their bright futures ahead and thank them for all their years of dedication to OLM sports teams. They are a talented bunch and we will miss them greatly.
Looking forward to another great Sports Day in 2016 🙂
OLM ACTIVE WEEK 2014
Sports Council ran a brilliant week of activity and fun for the whole school. The aim was to encourage everyone in our school community to try new activities and get active:)
Each year group had the chance to sample a new sport along with their timetabled PE class.
Breaktime activities and competitions took place for all years and staff.
An inspirational quote was read out over the intercom each day and every student in the school completed the mile challenge in the local park!
Well done to all the students and staff who got involved and remember to stay active OLM 🙂
OLM Sport and PE 2013-14
Well done to all the students who took part in OLM sport and teams this year. Take a look at some of the highlights from the year in the video below. The highlights include our Senior Boys basketball team winning east regional finals and qualifying to All-Ireland playoffs and our Inter Girls basketball being runners up in east regional finals. Our first OLM Camogie team in some years representing in the DCU blitz, and Kev Mc & the Sam Maguire visiting OLM and much much more.
A big thanks to all the teachers who manage and coach our teams. To the Sports Council who assist the teachers with the running of our teams. To the students who give their all and represent OLM to such a high level. Well done team OLM!!!
Sports Council
The sports council was established in 2004 with the aim to give senior students, responsibility and experience in organizing, promoting and managing school sports events and teams. Students are selected on the basis of an interview.
The roles and duties of the sports council include:
Officiating at score matches e.g. table duties, clock, score sheet etc
Promoting sports within the school
Coaching the younger teams within the school
Coordinate and run events throughout Active Week including the John Travers Mile
Organising sports events such as sports day and fundraising
Organising sports gear and equipment before each match
Writing up match reports for the school newsletter
Sports Council 2019/2020
On this year's Sports Council are the following students; Darragh Ivory (4th Year), Lewis Rogers (4th Year), Leah McNamara (4th Year), Dean Carroll (4th Year), Aaron O'Connor (4th Year), Jane Lambe (4th Year), Molly Kelly (5th Year), Brooke Mulhall (5th Year), Naomi Cunnigham (5th Year), Shannon Gibson (5th Year), Cian Gorman (5th Year) and David Smith (5th Year). 
Athletics
The athletics club meet on a Monday evening after school. For the winter term we concentrate on strength and conditioning, and cross country running. The summer months turn our attention to the track and field.
The school team has attended several cross country races this winter and are now facing into the last one of the year, but this race has a twist…run a muc. Good luck to all the teams entering. After the Easter break we will be selecting a team to run in the Schools Athletics Championships in Santry.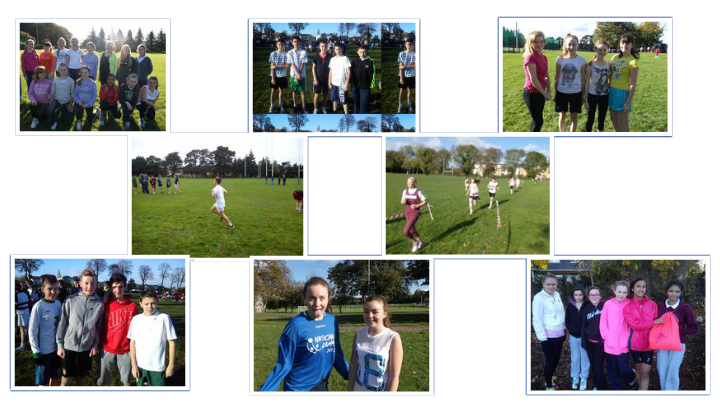 Basketball
Our Lady of Mercy have a strong tradition in schools basketball. We have won four All Ireland titles in 1990, 2007, 2011 and 2012. With many past and current pupils being selected for Irish School teams.
The school has a very strong link with the local basketball club 'The Oblates', and our school teams are currently being coached by Gerry Farrell a renowned coach from the oblate basketball club.
Senior Boys basketball team qualified to All Ireland playoffs, after being runners up in East Regional finals in December.
Senior Girls basketball team won East Regional finals and qualified for All Ireland playoffs.
1st year girls team represented OLM with great spirit, showing great teamwork throughout their league.
1st year boys team played with superb attitude and qualified to the Dublin quarter finals and finished their campaign in the top 8 schools in Dublin.
GAA
Traditionally, Our Lady of Mercy enjoyed great success with hurling and gaelic football teams, and it is recently again that we have started to develop and build these teams within the school.  We encourage all levels of abilities from experienced club players to beginners. We have excellent links with the local GAA club Good Council, and use their grounds for training and fixtures.
Under 16 Camogie Team 2015-16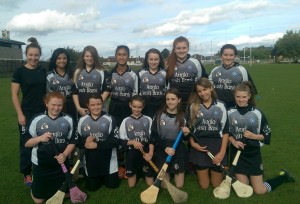 The U16 Camogie team have began fixtures. Training takes place in Good Counsel on Tuesdays at 4:15 – 5:15.
Results:
Scoil Dara V OLM: Scoil Dara Win, Player of the Match Celine Antacio
OLM V St. Dominics: OLM Win 11-6 to 0-1, Player of the Match Amy Ward
Next Game Loreto Beaufort V OLM away Monday 19th October 2pm. Training will take place on Tuesday 13th October at 4:15 in Good Counsel.
Annual Seachtain na Gaeilge GAA Blitz
2014 Winners – Donegal
2015 Winners – Kerry
Please listen out for details about the 2016 GAA blitz in March
Boys U 16 Gaelic Football
Details about the upcoming fixtures coming soon
LCA Recreation & Leisure
The Leisure and Recreation programme takes part over two years. There are three modules that the students take part in, which are: 
Module 1: Physical Activity for Performance.
Module 2: Physical Activity for Health and Fitness.
Module 3: Physical Activity for Recreation.
The aim of the programme is to broaden students perspectives of leisure and recreation activities and offer them opportunities to participate in a range of physical activities in their local area.
These activities include a 12 week boxing programme in Drimnagh boxing club, coached by Jimmy Kelly and Olympic Gold Medalist Michael Curruth. A ten week rowing programme in Dublin Municipal Rowing Centre, climbing in Gravity Climbing Centre inchicore, amoungst other activities such as dancing, hiking and fitness.
The Leisure and Recreation course promotes long-term learning and motivates the students to choose a life-style that is active, healthy and meaningful.
Rock Climbing
Rock Climbing
OLM rock climbing club meet Wednesdays in Gravity Climbing Wall Inchicore to practice and experience indoor rock climbing. This club is open to all students and offers an alternative to competitive sports.
Soccer
In the past boys from OLM have had good success on the soccer pitch, this year was the 1st in many years the girls have put out a team.
1st yr boys soccer team won the South Dublin futsul tournament.
U15 boys soccer team through to quarter final of the league.
U15 girls soccer team is a new team this year and have competed in the south Dublin futsul tournament and are currently in the first round of the tournament.
U16 boys soccer team qualified to the Dublin semi finals.