OLM Drimnagh's Guidance and Counselling Department is run by Mr. Healy, who offers a complete and confidential service service to our students while adhering to the Department of Education and Skills Child Protection Guidelines 2017 and OLM Child Protection Safeguarding Statement and Procedures.
The Guidance and Counselling Department, while working to our schools motto 'Shaping a Brighter Future for Our Young People', has a responsibility to help students make informed personal, educational and career decisions, set realistic personal and career goals and develop the skills required to accomplish these goals. The Guidance Department also provides students support in coping with personal problems and academic concerns.
Code Plus with SalesForce
CodePlus has joined forces with cloud computing company Salesforce to host a special event on Wednesday, 16th October, featuring a panel of women sharing their tech career stories, as well as a tour of their workplace (and a high probability of getting some goodies to take home). This open invite is for all girls in Transition Year, 5th and 6th year.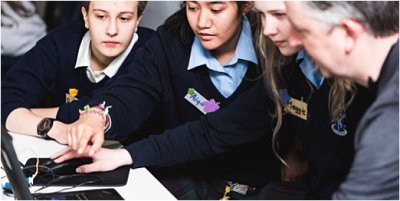 English Lecture Series
The course, delivered by Trinity academics, introduces major authors of poetry, drama and prose through close examination of selected texts, chosen from among those prescribed for the Leaving Certificate.
Schedule:
8 October                 Henrik Ibsen, A Doll's House by Julie Bates 
15 October               Emily Dickinson by Stephen Matterson             
22 October               Shakespeare, Hamlet by Mark Sweetnam 
29 October               Eiléan Ní Chuilleanáin by Tom Walker   
19 November           Robert Frost by Stephen Matterson 
26 November           Jane Austen, Persuasion by Amy Prendergast  
03 December           William Wordsworth by David O'Shaughnessy
10 December           Adrienne Rich by Stephen Matterson
17 December           Shakespeare, The Tempest by Nicholas Grene
Assistance with Getting to College
Useful Websites for 3rd Level, Educational and Careers Information:
Useful Websites for Personal/Emotional Support: